American Eagle Service Drawers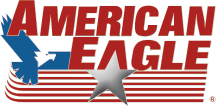 AMERICAN EAGLE mobile service drawer assemblies are built to take the abuse. A 300 lb. slide is used across the entire size range of drawers to insure a solid, durable platform to carry your tools and components. American Eagle is so confident in the durability of these drawers that we are offering a full conditional lifetime warranty on the slides and hardware.
ALL drawer widths in the product line utilize our unique key locking "T" handle. This feature provides a one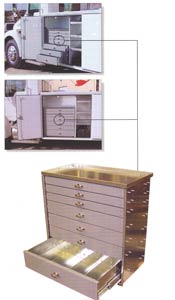 handed operation and conceals the latch mechanism for heavy-duty protection and an attractive appearance.
ALL the drawer fronts on the assemblies are given a textured gray powder coat finish. All of the other drawer components are manufactured of galvanized steel to prevent rust and provide a virtually indestructible surface for the latches to strike-no worn paint, as on other manufacturer's products. The metal edges of our drawers, and top shelf, are hemmed for added strength and safety.
AMERICAN EAGLE knows that ease of installation is important. Features have been added with this in mind. The side panels have a standard 2.50″ riser built into them with mounting slots pre-punched. The top shelf is included with all multiple drawer units and is designed to telescope out 2.75″ on each side of the drawer set. In most installations this will provide a full shelf in the body compartment and give solid reinforcement. The individual drawers are easily lifted from the set providing a unique feature that will assist your installation. This feature may also be convenient if you need to move items closer to the job. Each drawer in the set is provided with (4) hemmed dividers and is punched on 2.00″ centers for divider installation.