Enviroslip Tanks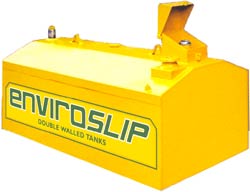 All ENVIROSLIP slip tanks (IBC) are Transport Canada registered (CAN/CGSB-43.146-2002). Four Models are available: 95, 135-Tall, 135-Short and our big 165 gallon.
View the Specification Chart to find the best slip tank (IBC) for your truck:
Features of every Enviroslip Slip Tank:
Extremely durable double wall design
Lockable Fill-Spill Box reduces fuel spillage when filling tank
Triple-plate pump intake to minimize stress fractures
Pump intake is fitted with pump mount and suction tube with emergency valve
All caps, hardware and instruction are provided for an quick and easy installation
Baffled primary tank to reduce sloshing and rocking
Manufactured with 12-gauge P&O Steel for better weld seams and increased paint adhesion
Inspected at the factory and ready for service for five years between inspections
Product Information
Enviroslip is dedicated to providing a superior slip tank (IBC) by using superior steel, enhanced welding techniques and pressed steel manufacturing processes.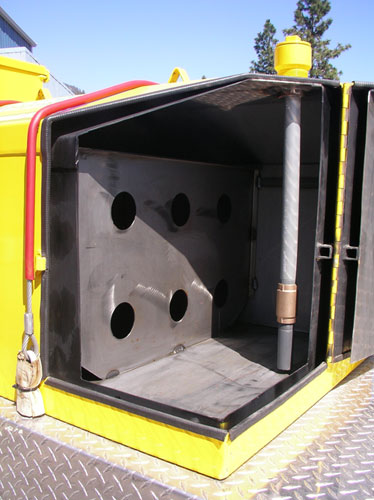 Pickled and Oiled (P&O) Steel:
Enviroslip uses Pickled and Oiled steel for all products. P&O steel is proven to improve weld quality by preventing pitting and improving paint adhesion.
Robotic Welding:
Robotic Welding creates a superior weld. This is due to a continuous weld that enhances the structural integrity of the container. Manual welding unavoidably creates breaks in the welding seam, increasing the potential for defective products.
Pressed Steel:
Instead of forming steel using a mechanical break, Enviroslip uses a hydraulic press to form their steel. The press system creates more accurately formed joints, increasing weld precision and joint adhesion.
Intellectual Property
Canadian Industrial Design registered U.S. Design Patent registered Enviroslip is the trademark of Enviroslip Manufacturing Ltd.