NEW MAXILIFT SERIES HAS MORE MUSCLE
MAXILIFT CRANES NOW WITH BETTER POWER TO WEIGHT RATIO
MORE HYDRAULIC EXTENSIONS AVAILABLE ON SMALLER MODELS
Compact Miniboom. Cranes are commonly mounted on the corner of a flat deck truck but also suitable for mounting on a trailer. It can also be equipped with a winch.
MAXILIFT CRANES OFFER THE FOLLOWING FEATURES:
Maxilift's are compact and take up very little space when stowed.
Maxilift hexagonal boom is constructed of high tensile steel giving it greater strength and less weight.
Counter balance valves on both lifting and extension cylinders ensure safe and smooth operation.
Crane structure is fabricated out of high tensile steel which makes the crane lighter and gives you a better payload.
Multiple crane models allow you to have pick the right model for the job.
Four hydraulic extensions on certain models.
Cranes can be mounted closer to the load and in some cases give them greater lifting greater lifting capacity than much larger monoboom cranes.
The electrical power supply and pump is enclosed in a compact metal box with a durable PVC cover to protect it against the harsh North American elements.
Maxilift Leads the Way with ECI system
The ECI overload protection indicator system that has been developed for Maxilift cranes displays the lifting capacity achieved while lifting a load. The display is a series of LED's of different colors that illuminate as capacities are achieved. This accurately indicates the load of the crane. A transducer on the main-lift cylinder measures the pressure and the ECI unit converts the signal to a reading on the display enabling the crane to be operated safely at all times as you know exactly the weight you are lifting, avoiding overload conditions.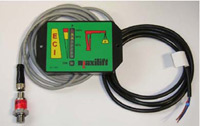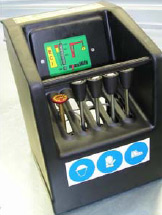 New Versions ML50.2 ERS – ML110.2 ERS – ML110.3 ERS
With 3 Function PROPORTIONAL RADIO REMOTE CONTROL
Maxilift is the light hi-tech crane modern and user friendly. Thanks to its manufacturing concept and modular construction it represents the ideal solution for multiple fields and applications.
Crane functions can only be operated by remote control.
Please select the model of your choice from the list below for more information:
*MAXISTAB Manual AWD Hydraulic Stabilizers available upon request*
Mod.
Dimensions
Dimensiones
(ft)
Lifting capacity
Capacidad de elevación
(ft lbs)
Slewing angle
Angulo de rotación
Basic crane weight
Peso de la grúa básica (lbs)
Crane weight with base
Peso de la grúa con base
(lbs)
A
B
C
LM
Load limiting device
Dispositivo limitador de carga
SC
Load limiting device with stability control
Dispositivo limitador de carga con control de estabilidad
50
47″
26″
12″
3,700
330°
140-210
—
—
—
110
48″
26″
12″
7,300
330°
230-385
370-525
—
—
150
52″
27″
12″
10,500
330°
360-450
500-590
—
—
180
52″
31″
12″
12,500
330°
400-460
620-685
*
—
230
56″
32″
12″
16,000
360°
495-600
720-830
*
*
270
56″
32″
12″
18,500
360°
495-600
720-830
*
*
270 L
59″
45″
12″
18,500
360°
515-640
740-860
*
*
330
61″
34″
15″
23,000
360°
590-760
880-1,040
*
*
380
64″
36″
15″
27,000
360°
680-870
1,030-1,210
*
*
510
71″
53″
21″
35,000
330°
970-1,050
—
*
—
510 L
71″
61″
21″
35,000
330°
1,000-1,200
—
*
—

---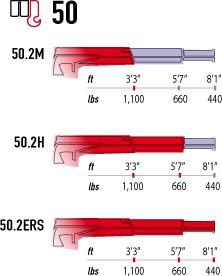 Brochure: 

Technical Information:

---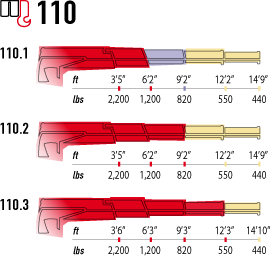 Brochure: 

Technical Information:

---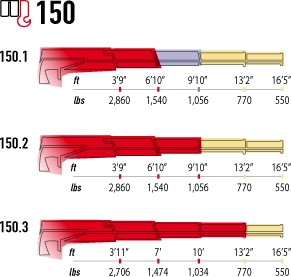 Brochure: 

Technical Information:

---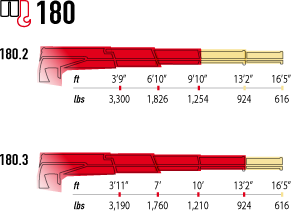 Brochure: 

Technical Information:

---
Brochure: 

Technical Information:

---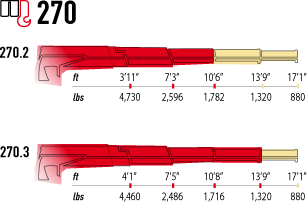 Brochure: 

Technical Information:

---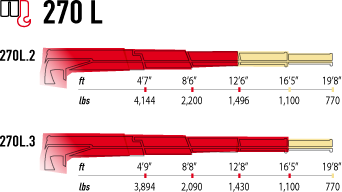 Brochure: 

Technical Information:

---
Brochure: 

Technical Information:

---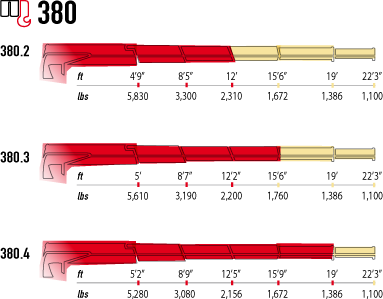 Brochure: 

Technical Information:

---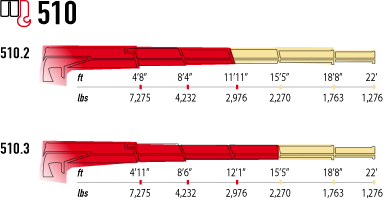 Brochure: 

Technical Information:

---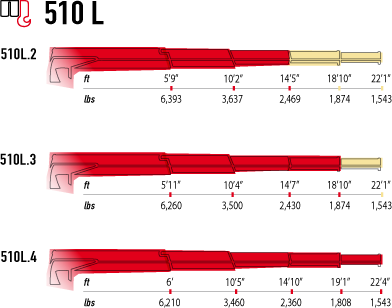 Brochure: 

Technical Information: