Fassi Hydraulic Jibs – Fassi Cranes

A COMPLETE RANGE FOR CRANGES: FROM 6 TO 150 TONS/METER, UP TO 35 METERS
First of all, we must remember that a hydraulic jib is a third boom that can be added to the standard machine using a special coupling device. In view of the importance that these jibs have for operation of a crane, Fassi has dedicated great attention to this element, designing and creating the jibs with the same quality principles employed on all its models, testing the jibs with the same meticulous tests and fatigue tests used for the cranes themselves.
A range for every need
The first factor that must be underlined is the extent of the range provided by Fassi: there are jibs that can be fitted on cranes of from 6 to 150 t/m, with working capacities of up to 35 metres. This means it is possible to have jibs that are suitable for the majority of models and working versions of Fassi crane, particularly in the range preferred by the majority of users.
Working dimensions reduced to a minimum
The care used when designing Fassi products can also be seen in various technical and structure features of the jibs. One that stands out in particular is the fact that all Fassi jibs, as well as being able to fold away behind the cab, are designed so that their working dimensions are as small as possible, thus leaving the maximum amount of usable loading space on the truck bed. Furthermore, Fassi has designed its jibs so as to reduce the encumberment height of the jib itself. The result has been achieved by fitting the rams to the sides of the jib.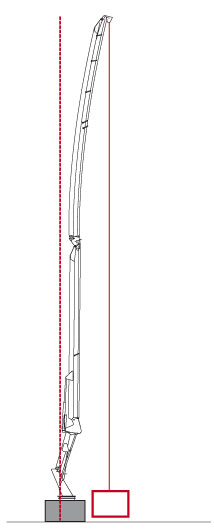 Fassi hydraulic jibs are designed and built using the same quality principles that characterize all our cranes. The jibs are tested in the same way and are subjected to the same fatigue tests as the cranes themselves.
High speed and excellent performance
One of the strong points of Fassi jibs is their speed. In effect, they are all fitted with regenerating valves, which allow the best possible performance in all working conditions. Fitting a Fassi jib will not restrict the performance of your crane, with the obvious exception of the changes in rated capacity resulting from the additional weight of the jib itself.
Total working safety
In Fassi cranes even the jibs are fitted with lifting moment limiting device devices, integrated with the machine's on-board electronics. Fassi jibs also have a special system for automatic hook-up of the extending booms when the crane is folded away. This is an extremely useful safety device when working on rough or bumpy ground, which might result in a risk of partial extension of the jib while the truck is in motion.
Integration of functions
In Fassi jibs there is no lack of synergism with the other additional systems: this is why the jibs can be fitted with raceways to activate supplementary devices at the tip of the jib, such as rotators, buckets, hydraulic hooks, etc..