Seeing – Fassi Cranes

EVERYTHING YOU NEED ON THE DISPLAY
All the crane functions available are easily and immediately accessible thanks to the clear and precise graphic interface both on the display of the radio control and on the crane control station.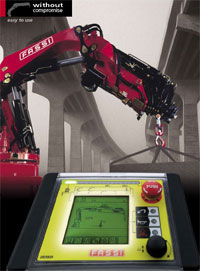 The advanced electronics used on Fassi cranes, which are a further development of the proven FX Fassi system, allow rationalization by improving the hydraulic, mechanical and electronic components. Innovative sensors, connected to the central processor unit, work in perfect symbiosis, providing noticeable progress above all in the control functions and in the interface
between user and machine. The obvious aspect of this process is in fact the visualization of the information on a simple graphic display that reports everything the operator needs to know on the state of use of the crane, thus permitting a quick and effective management of the operation and safety. High performance hardware and software allow you to display everything you need to control the crane: the quantity and quality of the readable information and the number of crane functions that can be directly activated from the central processor unit make selecting the various operating capacities and monitoring the state of the crane at a glance easy and intuitive.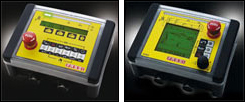 The visualization by means of innovative graphic displays simplifies the management of the crane in all conditions of use.